Tuesday, August 09, 2022
WWIN SHOW AUGUST OPENS WITH NEW EXPERIENCES AND VENDORS IN LAS VEGAS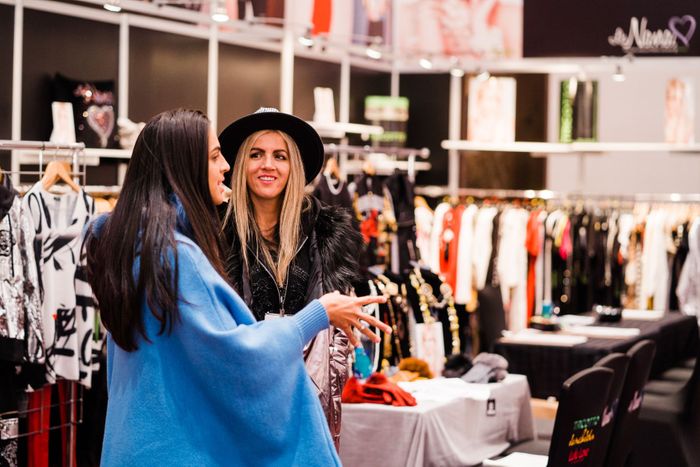 Shelton, CT (August 9, 2022) – Womenswear in Nevada (WWIN), the premier destination to source women's apparel and accessories, opened its August market venue at Caesars Palace in Las Vegas on Monday, August 8 and will continue through August 11. The first day opened with new and noteworthy exhibitors and offered two first day educational workshops, live selling on the show floor, live art painting and other activations.
"We are thrilled with the opening day of the WWIN Show welcoming North American and international buyers to discover new products and trends, make connections and foster relationships from over 450 leading apparel and accessories companies. WWIN is once again delivering a high-touch, in-person experience for developing business," said Melissa K. Montes, Vice President of WWIN. "At WWIN, we are proud of this edition's relevant educational programming including workshops and show floor activations. Most importantly, our buyers are meeting with new exhibiting brands such as Paris Hilton Collection and Sliving by Paris Hilton, Nally & Millie, Kozan by Melis Kozan, Brand Bazaar, Angela Mara and staple brands like Tribal Sportswear, Joh Apparel, Group Corwik (Renaur), FDJ French Dressing Jeans, Sympli, Carre Noir and so many more."
Exhibitor list can be found here>>
The WWIN Workshops educational talks kicked off with a featured keynote on "How to Recession-Proof Your Business by Pricing for Profit" presented by Sara Burks, Director of Education & Partnerships at The Boutique Hub. During the lunch hour, an artist and designer, AlanaKayArt did an inspiring live art pour featuring bright colored resin on wood and mannequins. Later in the afternoon, was a highly engaged presentation "Secrets to Increasing Sales (without Finding New Customers!)" and a book signing presented by Emily Benson, retail consultant and author of the book, The Retail Mindset. Networking and extended show floor shopping with a full bar and appetizers at the "Pop, Fizz, Clink!" reception rounded out the day.
Additional presentations to come include trend forecaster and founder of JMR trend + creative, Jessica Richards who will discuss spring 2023 trends and provide a guided walking trend tour after the presentation and a social media workshop on content creation for Instagram Reels and TikTok presented by digital marketing executive, Brittany Lamp. Also, a Q&A fireside chat on retail trends and building customer loyalty with retail business strategist Syama Meagher of Scaling Retail will be interviewed by WWIN Style Host and communications consultant, Jen Cullen Williams.
New to WWIN is a dedicated area for attendees to utilize for LIVE selling straight from the show floor. The curated space allows buyers to showcase their newest finds for the upcoming season and pre-sell them to their social media audience right from the show.
"WWIN is focused on helping our community continue to evolve their businesses and tackle the challenges retail business owners are facing! Our thoughtful programming is set to inspire and allow attendees to bring these newfound skills to drive their businesses," states Montes.
Full schedule of events and education is available online here >>
For more information about WWIN, visit wwinshow.com. ​​

###
ABOUT CLARION EVENTS, INC.
Founded in 1995, Urban Expositions, now operating as Clarion Events, Inc. and owned by Clarion Events, produces and manages a portfolio of 36 trade and consumer events, serving a range of industry sectors including Gift, Souvenir, Apparel, Art, Auto, Fire and Rescue, Foodservice, Specialty Retail, Gaming, Power & Energy, and Enthusiast Lifestyle, with offices in Kennesaw, GA, Trumbull, CT, Portland, OR, and Boca Raton, FL. us.clarionevents.com.

ABOUT WWIN
The Womenswear In Nevada Show - also known as the WWIN Show - is a Wholesale Women's Apparel show floor filled with top name brands and up-and-coming innovators featuring more than 1,500+ lines from 400+ exhibitors. This is the ideal place to get a first-hand look at the newest designs, trends and styles for the coming season. Known as the fashion and accessories trade show for all size women, retailers from throughout the US and 25 other countries come to WWIN seeking countless designs in every category, at all price points - modern updated, petite, tall, plus size, contemporary, traditional and endless accessories. Attend idea-packed workshops and exciting special events, and even enjoy complimentary breakfast and lunch while you're here. This event is produced and managed by Clarion Events, Inc. wwinshow.com

For more information about WWIN, please visit wwinshow.com or follow us on Facebook @wwinshow; Instagram @wwinshow; Twitter @wwinshows_nv

To sign up for our newsletter, the WWIN Weekly, click here »
​​​​
MEDIA CONTACTS:
Paige Heady
203.892.3235 | paige.heady@clarionevents.com

Jen Cullen Williams
562.382.3802 | Jen@JenCullenWilliams.com